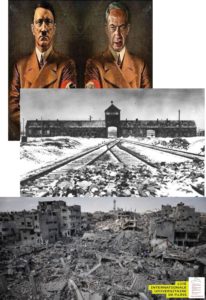 From Nazi Germany to Rwanda, from Syria to Palestine, we have witnessed serious human rights violations all over the world. Genocide represents the worst crime against humanity and even in the 21st century, despite hundreds of international law regulations, numerous human rights organizations and the role of the United Nations, this crime continues to take place in an international environment of indifference and neglect.
Emilio Bejos actualmente estudia la Maestría de Seguridad International con especialización en Medio Oriente y Derechos Humanos en el Instituto de Estudios Políticos de París (SciencesPo). De 2014 a 2018 fungió como Jefe de Departamento para Europa Central, entre otros puestos, en la Secretaría de Relaciones Exteriores, Dirección General para Europa. En 2017 concluyo un Diplomado en Periodismo y Conflictos Bélicos en los siglos XX y XXI por la Universidad Iberoamericana. Es Licenciado en Relaciones Internacionales por la Universidad La Salle de México.
Emilio Bejos prépare son Master en Sécurité Internationale avec une spécialisation au Moyen Orient et droit humain à Sciences Po Paris. De 2014 au 2018 il a travaillé comme Chef de département pour l'Europe Centrale, parmi d'autres postes, au Ministère des Affaires Etrangers, Direction Générale pour l'Europe. En 2017 il a terminé une formation en journalisme et conflits de guerre dans les XX et XXI siècles à l'Université Iberoamericana à Mexico. Il est diplômé en Relations Internationales de l'Université La Salle à Mexico.