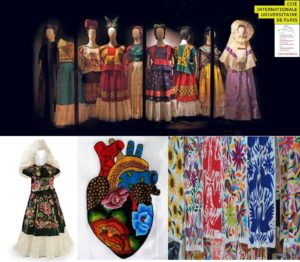 Indigenous communities in Mexico preserve a social and cultural identity distinguished by an attachment to the ancestral territory, which are projected in different ethnic, cultural, regional or linguistic characteristics. Among the cultural expressions that can be identified, the production of art or crafts represents an important element as ceremonial symbolism, economic, social and cultural aspects that reflect the worldview of these ethnic groups. Being the crafts the main channel through indigenous communities have managed to conserve and transmit their spiritual and physical traits and because of this colorful, diverse, unique and outstanding craft tradition, representative designs of various indigenous groups have been used internationally without giving any recognition to its creators.
In this work we analyze multiple cases in which international companies plagiarize the designs to commercialize them massively without their consent, and creators do not receive any kind of remuneration, or recognition. In order to generate an alternative to respond to the phenomenon of the artisan communities that do not register the ownership of their creations (because the symbolic references are of a community and not a personal nature), and for this reason they are not able to protect their crafts and this generates that other identities are able to determine the authorship of the designs and even to patent them.
Samahi Villegas is a Bachelor in International Relations, studying a double degree at Universidad Popular Autónoma del Estado de Puebla (UPAEP) in Management and Marketing and an MBA in Luxury Brand Management at CMH-IETH Paris. Internships lasting one year at the Instituto Nacional de Migración, international academic exchanges: 2014 as part of the 2nd generation of the Pacific Alliance, 2016 for a TREPCAMP high entrepreneurship scholarship at GeorgeTown University, Washington DC, and with work experience as Co- founder of small business model in Oaxaca.