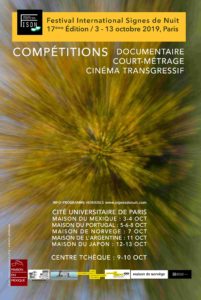 Pour consulter le programme rendez vous sur:
http://www.signesdenuit.com/paris/P17/E_H.htm
OUVERTURE
Saz /  Stephan Talneau / Germany / 2019 / 1:39:00
It's the journey of her life: Petra Nachtmanova journeys to both the end of the world and the centre of her heart. Saz on her back, the Berlin musician heads off in search of the origins of a string instrument tangled in myths, which found its way to her in the streets of Kreuzberg.
She travels from Berlin to Istanbul, through Anatolia, over the snowy peaks of the Caucasus and into the dusty desert of eastern Iran. She meets Bosnian instrument makers, music teachers who climb mountains in suits and chain-smoking Turkmen who possibly invented blues rock. She has one request for each encounter: 'Play me a song that I can take home with me'. First she meets skeptical amazement. Then enthusiasm. And finally, deep trust.
'Saz' is a film about the power of music and the scope of the world, simultaneously a road movie and a quest for meaning, a breathtaking trip in the border region between Europe and Asia, which shows that despite conflict and crisis, there is a human everyday life out there, as well as something special that holds us together.
FRENCH PREMIER
////////////////
Focus Mexico
The Sleepers (Los Durmientes) / Alejandro Ramírez Collado / Mexico / 2018 / 00:20:35 /
In a shelter on the southern border of Mexico, Central American migrants recover their strength to continue their journey to the United States.
PARIS PRE
Camila / Urzula Barba Höpfner / Mexico / 2018 / 00:14:30
At 12, Camila is going through a difficult time. She is a girl who interacts little with her classmates and lives somewhat withdrawn, finding refuge in art in general, and in her notebook of drawings in particular.
FRENCH PREMIER
There they come! (¡Allá Vienen!) / Ezequiel Reyes / Mexico / 2018 / 00:07:42
Experimental short film about the missing people in Mexico, sisters and brothers, mothers and fathers, daughters and sons, Mexican people lost, in the recently hard years, seen through found footage of Mexican families' home movies and the poem: « Los Muertos » (The Dead) by the poet Maria Rivera.
Nopaltepec / Hiram Islas / Mexico / 2018 / 00:08:19
In the town of Nopaltepec, a public transport driver and a passenger have an argument.
FRENCH PREMIER
Las vías / Charly Moreno / Mexico / 2018 / 00:16:09
Through the eyes of three different generations of women who live in an irregular urban settlement in Estado de México, we witness their daily lives and problems. A true lesson about the real value of human beings.
INTERNATIONAL PREMIER
Here on Earth (Acá en la tierra) / Rebeca Trejo Campos / Mexico / 2018 / 00:12:45 /
Every morning at school, when girls and boys stand in their lines, Sam, an alien boy, is confronted with this situation: he doesn't fit into this society where everything has to be classified. However, thanks to a teacher, he will find his place in the world.
FRENCH PREMIER